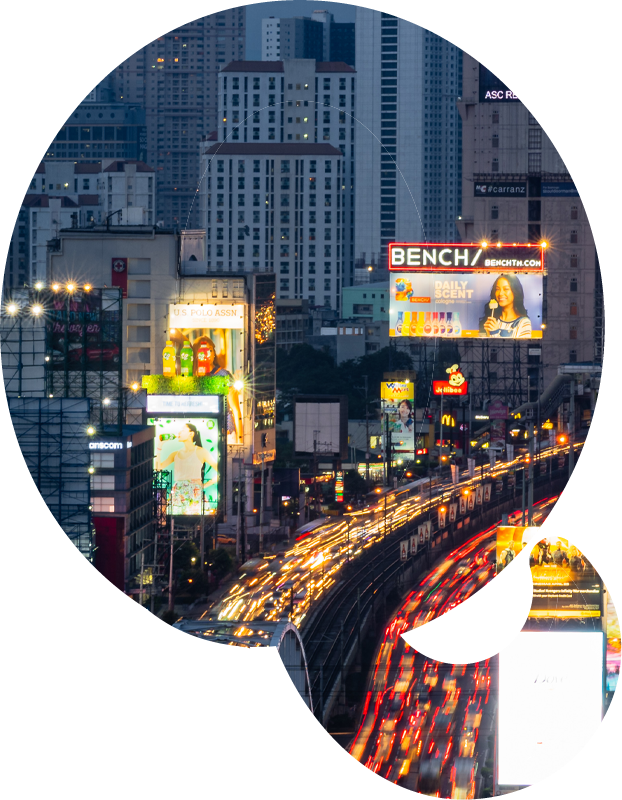 QBF Asia Pacific Inc. (Quick Brown Fox) is an advocate of Outdoor Advertising.
When used efficiently and creatively, OOH MEDIA has shown time and time again that it is one of the world's most effective means in communicating messages across different types of audiences. It is no surprise that outdoor advertising has been the first and longest living type of advertising there is. However, QBF also believes the need to adapt and evolve in this day and age of technology and the internet.
The future is here, and brand messaging can no longer be isolated in silos, having each media independent of each other. Synergies must be created to be at pace with this information savvy generation. Having said this, QBF has prioritized finding synchronicity between the two most effective media in reaching this constantly moving world – OUTDOOR ADVERTISING and MOBILE MEDIA.
We've been in in this industry since 2005, making our clout and network as extensive as they come
at least 500 advertising media campaigns executed by the QBF team since the beginning of their respective careers in the industry
Zero layers, Zero BS. Our lean organization allows our clients to deal directly with decision makers, making for quicker response time to their needs.
Here at QBF, we are in the business of making people look. Our visual identity is the same. Our logo, 'The Q,' is a modern homage to the print-industry famous 'quick brown fox'. Both embodying our name and its origin, it is an icon that also behaves like us — agile in form, it changes & adapts to deliver the best visual & message. In a competitive industry, it is a visual reminder for us to remain competent – to jump over the lazy dogs.