Airports and OOH Advertising : A Perfect Match
If you think back to the last time you were at an airport, you'll realize that a big chunk of your time was spent waiting – waiting to check-in, waiting at security checks, waiting at the gate to board, waiting for your luggage. According to Airport Council International, travelers spend an average of 3 hours at airports all over the world. That's a lot of time where people actually welcome any kind of engagement or distraction that would help make time pass by faster. This makes airports perfect for reaching consumers with creative out-of-home advertising executions.
Increasing Audience
The Department of Tourism reported that in May of 2017, international visitor arrivals in main ports of entry clocked in at 532,757, which was an increase of 19.6% from the same month in the previous year. It was the first time the record surpassed the 500,000 mark, showing a bright outlook for tourism in the Philippines. 98.26% of these arrivals were by air, with the top three international airports being Manila, Cebu and Kalibo. Not only does it show that travel is becoming more accessible due to the push of DOT's tourism campaign and popularity of promo flights and travel fairs, but that advertising in airports will have an ever-growing audience.
A Melting Pot of Market Segments
Consumers who choose air travel come from multiple market segments, and choosing the correct execution in different areas at airports can help advertisers deliver their message right to their bullseye audience. The aviation industry has already done part of the segmentation, with different airplane classes, airline business models (such as full service, budget or chartered), exclusive lounge access to specific customers, and free or paid airport services. Understanding these different elements of the airport ecosystem can help brands find the best OOH ad location and execution that speak to the right audience.
Flexible and Creative Advertising Spaces
Creativity in advertising executions at airports can be limitless. Numerous brands have successfully run campaigns in airports that are witty, engaging and effective. The key lies in taking advantage of micro-moments that consumers have at different points of their travel experience.
Heineken's ad at JFK's Terminal 8 embodied the brand's spirit of adventure by daring travelers to play their "Departure Roulette" – a board that displayed a new exotic destination in exchange for your original travel plans with the press of a button. Airports naturally have a spirit of exploration and adventure in the air, and Heineken took advantage of this.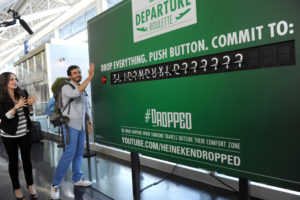 Douwe Egberts, a coffee brand, capitalized on sleepy travelers by placing a machine that dispensed free coffee in exchange for a yawn. Internal studies showed that consumers were more likely to switch to Douwe Egberts coffee once they tasted it, and they used facial recognition software to create an engaging execution that encouraged consumers to try their coffee.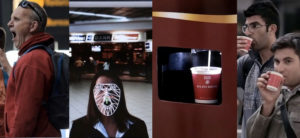 Several casinos have cleverly turned luggage conveyor belts into a game of roulette, such as this execution for Casino de Venezia. It's clear and delivers the point across in a playful way, and right at a place where travelers are waiting and looking for their bags. It blends in perfectly and delivers advertising without being too distracting.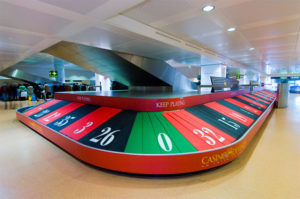 Mini Cooper's clever ad placement perfectly demonstrates their vehicles' roomy interiors. It's another smart use of the luggage conveyor belt in delivering their message in a soft sell approach.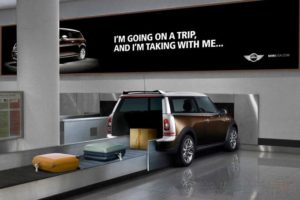 Another great piece of advertising real estate is on charging stations. 100% of the time, you'll see a traveler hunched over by an outlet, desperately getting juice into his mobile phone before the flight calls for boarding. Not only do charging stations serve a need, but it's a subtle way of getting screen time for your brand. Samsung has put up charging stations across multiple airports, a perfect brand to sponsor gadget charging stations.