In an age where digital advertising is the platform upon which brands battle it out for audiences' attention, OOH is still in the running when it comes to stirring up the social media pot for Filipinos.
The Straits Times reported details of a study conducted by the Boston Consulting Group, stating that Filipinos in Manila spent an average of one hour and six minutes stuck in traffic each day. Combine that with the fact that the Philippines ranked first in number of hours spent online: as of January 2017, Filipinos spent a total of 8 hours and 59 minutes online every day, 3 1/2 hours of which were using mobile phones to surf the net. With a lot of time spent sitting in vehicles amidst a standstill, Filipinos took to social media to discuss billboards that caught their eye. Here are 4 billboards that sent Filipinos in a social media frenzy:
Links:
http://www.straitstimes.com/asia/se-asia/filipinos-spend-16-days-a-year-stuck-in-traffic-study
https://www.slideshare.net/wearesocialsg/digital-in-2017-global-overview?ref=http%3A%2F%2Fwearesocial.com%2Fblog%2F2017%2F01%2Fdigital-in-2017-global-overview
Bench's Defaced Pro-LGBT Billboard
In February of 2015, Bench released a series of billboards, in full view from the Guadalupe Bridge, that celebrated "Love All Kinds of Love". One of the billboards featured Preview's Creative Director Vince Uy with his arm around his partner, Niño Gaddi, and their hands clasped together. What sent netizens abuzz was the glaring paint job that blacked out their clasped hands. Then ensued hot debates on just how progressive (or not) the Philippines is with acceptance of the LGBT community, messages of support for Bench's brave move in advertising, and even conspiracy theories on how the brand used this as a PR tool to bolster their mentions in social media.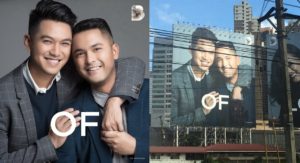 Left: The version of the ad release online | Right: The version of the ad seen on the billboard
Credit: wheninmanila.com
Link:
http://www.wheninmanila.com/timeline-what-really-happened-with-benchs-pro-lgbt-billboard/
Executive Optical's Loser Billboard
An Executive Optical billboard released in June of 2012 got the flak for depicting racism, according to social media users. It showed a girl seemingly picking a dark-skinned date over a lighter-skinned guy with the line "Don't be a loser. Get your eyes checked". Filipinos were up in arms with the negative portrayal of having a dark complexion, calling the brand out for being 'racist'. Interestingly enough, the brand defended the ad and pointed out that the "loser" in the situation is the good-looking, fair-skinned guy holding a head of cauliflower instead of a bouquet of flowers. We're not sure if we can chalk it up to 'agreeing to disagree', but billboards do get noticed for their glaring imagery and not their finer details.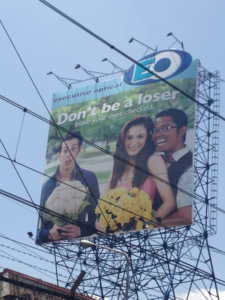 Credit: Mike Shih
Link:
http://news.abs-cbn.com/lifestyle/06/20/12/netizens-criticize-optical-shops-billboards
Xian Gaza's VERY Public Display of Admiration
When declaring admiration for someone, the sky's the limit and creativity is endless. In Xian Gaza's case, however, he risked be branded as "creepy" by netizens with his brazen attempt at getting popular actress Erich Gonzalez's attention. Gaza paid for a billboard that essentially delivered the request to 'drink coffee with me?'. One thing led to another, and Gaza eventually became the subject of articles, blog posts, and even a few Pinoy memes.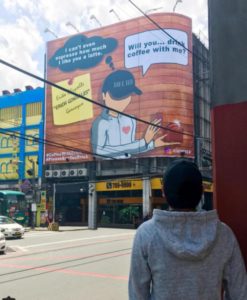 Credit: Xian Gaza
Link:
http://entertainment.inquirer.net/232728/bachelor-uses-billboard-to-ask-erich-gonzales-for-coffee-date
The NEW Korina Sanchez
Coming at the heels of the new year, Korina Sanchez debuted her new look on the new Belo Medical Group billboard on EDSA. She quickly sent the social media sphere buzzing, with everyone airing their thoughts on her new look, wondering how she "got her face to be so small", and even mistaking her as a host of other popular personalities. Needless to say, lots of women are now reading up on revelations of her diet, workout and Belo routine.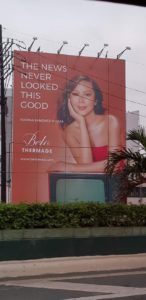 Credit: wazzuppilipinas.com
http://preen.inquirer.net/66574/korina-sanchez-new-billboard-netizens-thought-liz-uy