Valentine's Day is just around the corner and this day is one strong proof that Filipinos are hopeless romantics. As early as first week of February, promos and discounts are already available everywhere. Although things may feel different and limited with how everyone celebrates Valentine's Day worldwide, expressing our love can never be limited.
Special days like Valentine's Day always inspire Advertisers and Brands to come up with unique, interactive, and impactful Outdoor campaigns.
There are plenty of options when it comes to Out-of-home advertising so to help you get started, here's a list of ideas for your Valentine's Day campaign.
BENCH' "LOVE ALL KINDS OF LOVE" CAMPAIGN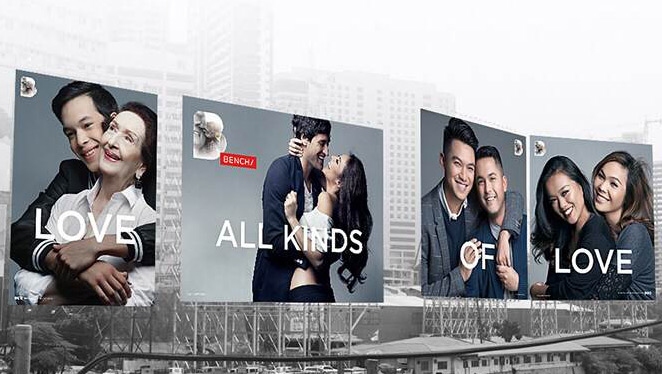 Bench is one of the top clothing brands in the Philippines and huge in the world of OOH Ads. In 2015, Bench launched their Valentine's campaign "Love all kinds of love" and placed a four-part billboard that features famous celebrities and movie icon Gloria Romero with grandson Chris Gutierrez, Solenn Heussaff with fiancé Nico Bolzico, and Vince Uy holding hands with boyfriend Nino Gaddi.
This bold move of Bench to recognize the LGBTQ Community and celebrate all kinds of love in their campaign has earned the love and respect of netizens. The campaign did not just open the hearts of many Filipinos to a special day of love but also opened their minds about gender equality.
COCA-COLA: POP-UP VENDING MACHINE & INTERACTIVE OOH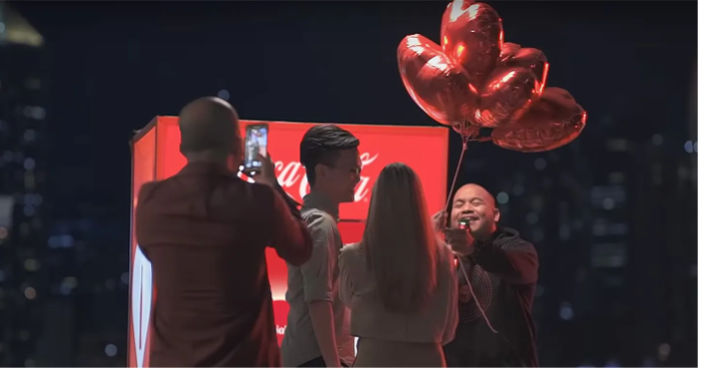 In celebration of Valentine's Day, Coca-cola set up a special vending machine dedicated for all couples who pass by. The one day pop-up vending machine was placed in Circuit, Makati City. Participants must select a feeling and sing a love song for their partners. After a few minutes, the machine would dispense free Coke for the couple with some Merchandise such as drinking straw, shirts, and rose. This OOH experiential marketing approach was a clever way to connect with people and drive call to action.
Another viral OOH Campaign of Coca-cola was the Valentine's Bus Stop for singles. The goal of the campaign was to make these singles at the bus stop meet another person through the Digital screen placed beside them. Just when they thought the conversations end at the bus stop, another surprise awaits them inside the bus. The next stop of the bus would pick up the person they just met while they were waiting so they could to continue their 'getting to know' conversation inside the bus.
Staying true to its brand personality of "bringing and creating memorable moments", Coca-cola is a perfect example of brand consistency across all marketing channels, may it be through traditional or digital marketing.
SNICKERS' INTERACTIVE "YOU'RE FORGETFUL WHEN YOU'RE HUNGRY" CAMPAIGN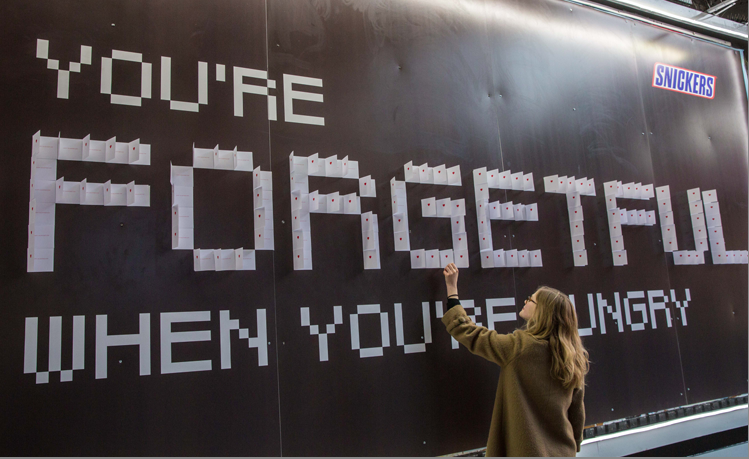 Snickers' "You're Forgetful When You're Hungry" campaign in UK last 2017 also ended up becoming one of the most clever & interactive outdoor campaigns. They were able to help the 'forgetful' and busy commuters in London Waterloo through placing billboards that contains 3000 Valentine's Day cards. Everyone who pass by the Outdoor Ads immediately gets reminded of the date and get cards from the billboard for their special someone.
This type of Outdoor Ad clearly shows how it can help brands connect and interact to any potential consumer amidst the busy streets of London.
DUNKIN DONUTS' DIRECTIONAL BILLBOARDS
Dunkin Donuts is known as one of the best on the go coffee and donut shop worldwide. In 2006, they placed directional billboards that help passersby and commuters notice the location of their nearest shop. This campaign features playful and colorful design on their billboards that include limited edition merchandise like heart-shaped donuts. Dunkin's large directional billboard is one of the best call-to-action strategies anywhere.
Traditional OOH Advertising like this proves that it is still very effective in persuading potential consumers to make a purchase when strategically positioned.
MCDONALD'S: "I'M LOVIN' ____" CAMPAIGN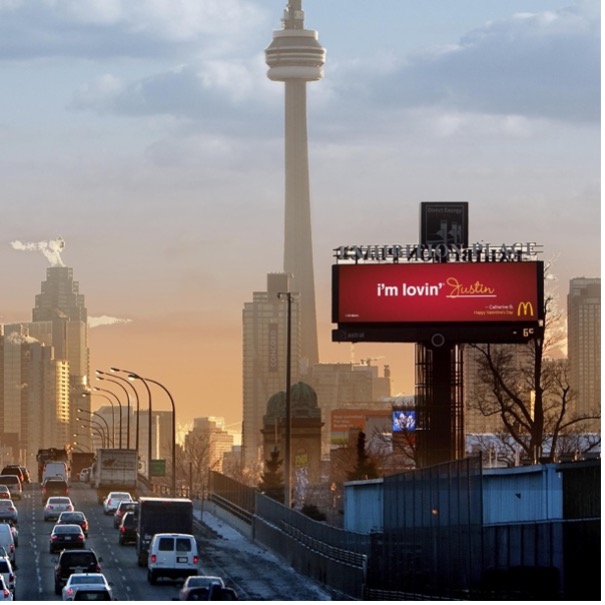 The American fast food chain, McDonalds is always known for its unique Outdoor Advertising. In 2018, they expressed their love for their consumers through personalizing their digital billboards. The brand became an avenue for people to share how they feel by commenting their partner's name on a social media post and get a chance to be featured on their digital billboards. Their slogan "I'm Lovin' It" was changed to "I'm lovin'______"
This campaign of McDonald's earned a special place in many people's hearts – simple yet memorabe OOH Advertising.
THE "LOVE TWITTER" CAMPAIGN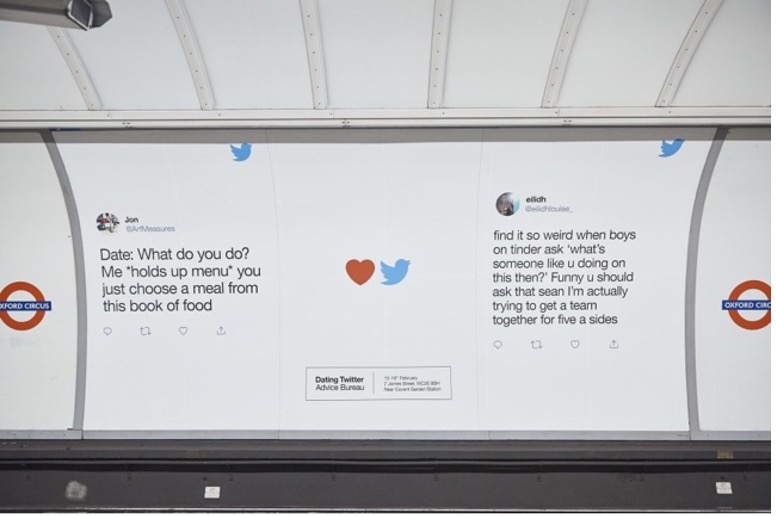 These tweets about personal relationship stories, break ups, marriage were displayed by Twitter days before the Valentine's Day in United Sates. These (digital & printed) banners and posters were placed in different subway stations. The director of planning at Twitter, David Wilding said that showing these raw and relatable tweets was their way of honoring the reality around modern world of dating every Valentine's Day. This unconventional approach of OOH called Guerilla Outdoor Advertising is not just effective but is also budget friendly.
We hope you got inspired by these ideas: from meeting new people, making memorable moments on a busy street and celebrating all kinds of love.
Do you have any Valentine's Day campaign in mind for your brand? Let's get it started and contact us now!