I daresay that 2016 will mark a turning point for the OOH in the Philippines.
Many things have been happening around the industry that will invite players to rethink their business — perhaps even question the very viability of staying in it.
Three themes underscore the coming sea change in Philippine OOH today:
A changing Metro Manila landscape
The emergence of local audiences and advertisers
The expansion of the consumer audience base, now dispersed nationally
A changing Metro Manila landscape.
This phrase is a cliche, but it does describe Metro Manila, the Philippines' pre-eminent (inordinately so, in my opinion) media market:
Its prime real estate, the metro's main artery Epifanio Delos Santos Avenue (EDSA) — long-lined with the industry's priciest inventories — is undergoing a monumental facelift with high-rise condos and malls sprouting, that some of its prized sites will inevitably suffer in visibility,  if not drown in the resulting commercial clutter.
Elsewhere, infrastructure projects — such as those in the vicinity of the Ninoy Aquino International Airport and along South Super Highway — will similarly impact how an audience experiences a site.
Many of Philippine OOH's crown jewels have long rested along the main thoroughfares in Metro Manila. Amidst the changing landscape (and lifestyles) in the Philippine capital, the industry must now begin to rethink the primordial questions of outdoor advertising media: where are our audiences and how do we talk to them?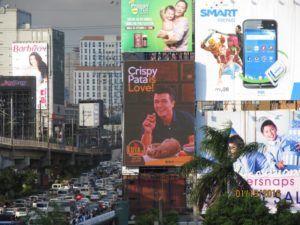 Which brings us to our second theme:
The emergence of local audiences and advertisers
Arguably, Philippine OOH is still largely viewed and used by the advertising industry as a broadcast medium — employed to cast the widest net in the highest traffic locations, and reel in the largest audience. Hence, the seeming perpetual preference for the Big Four roads in and around Metro Manila: EDSA, Circumferential Road 5 (C5), North Luzon Expressway (NLEx) and South Luzon Expressway (SLEx).
But the truth is, OOH has both a broadcast and local character. And the times call for a serious consideration of the latter in the Philipines.
With the rise and reconfiguration of economic zones, townships, central business districts (CBDs), mixed-use buildings, malls, etc., our urban areas are now being carved up, and sliced and diced into commercial pockets. As are Philippine OOH's consumer audiences.
We can already see this happening in Metro Manila and in several cities across the country. Urban developments are bringing in new businesses and increased footfall. Advertisers and audiences are coming together in new, more defined, local marketing and media ecosystems — places where they meet, interact and transact.
What these new subdivisions of space need is OOH media that serves (and serves up) their local audiences, as well as OOH advertising (content) that engage these audiences in a more locally relevant manner.
From being an overwhelmingly broadcast, thematic, time-bound utility, Philippine OOH must now also maximize its local, space-based dimension.
And our third theme:
The expansion of the consumer audience base, now dispersed nationally
Philippine OOH is too Metro Manila-centered.
We've got a population of over 100 million consumers spread across our breathtaking 7107 islands, and our industry sector seems inordinately focused on Metro Manila which — busting at the seams as it already is— really houses only 15–16% of the market.
85% or so of the country's consumers reside outside Metro Manila. Many there can afford to buy — and they now have places to shop at, nearby.
Where are they?
Just try this, for starters: cross-reference the Philippines' Business Process Outsourcing (BPO)-based list of Centers of Excellence and Next Wave Cities against the the country's Malled Metros. This list covers the following areas:
Metro Manila
Bacolod
Metro Cebu
Clark
Baguio
Davao
Dumaguete
Iloilo
Metro Bulacan (Baliuag, Calumpit, Malolos, Marilao, Meycauayan)
Metro Cavite (Bacoor, Dasmarinas, Imus)
Metro Laguna (Calamba, Los Banos, Sta. Rosa)
Metro Naga (Naga, Pili)
Metro Rizal (Antipolo, Cainta, Taytay)
Better yet, take a trip this weekend, and immerse yourself in the energy of these emergent economies.
Imperatives for Rethinking Philippine OOH
In the face of the changes challenging the industry, it is imperative that players in Philippine OOH rethink their business along these lines:
Think Local, not just broadcast, OOH. The dominance — and availability — of the Big Four Roads (EDSA, C5, NLEx and SLEx) as consumer catch-alls, is fast eroding. New media platforms and formats, as well as advertising content are needed, to bring together local audiences and locally-present businesses.
Think National. The pre-eminence of Metro Manila itself as a market is similarly being challenged. Overseas Filipino remittance inflows, BPO taxes and wages, tourist spending, real estate development, and a host of other factors, are fuelling the emergence of economies in many parts across the country. OOH media and advertising spending in these areas should follow suit.
Think Now.