ECQ, MECQ, GCQ, repeat.
It's a pattern we have all become so accustomed to that it almost doesn't even surprise us when our lifestyles shift so rapidly over and over. About 18 months into the pandemic, Metro Manila still somehow resembles its old self — bustling with people, developments being put up left and right, oh and of course, endless billboards filling the streets and expertly swaying us!
Despite the constant and ever-changing lockdown status of Metro Manila, it doesn't seem to be affecting out-of-home media at all. If anything, OOH is proving itself to be unmatched. And paired with a few social media re-posts here and there, one may even say that the impact of OOH is now unstoppable. 
What makes us say that?
How OOH Is Amplified Through Social Media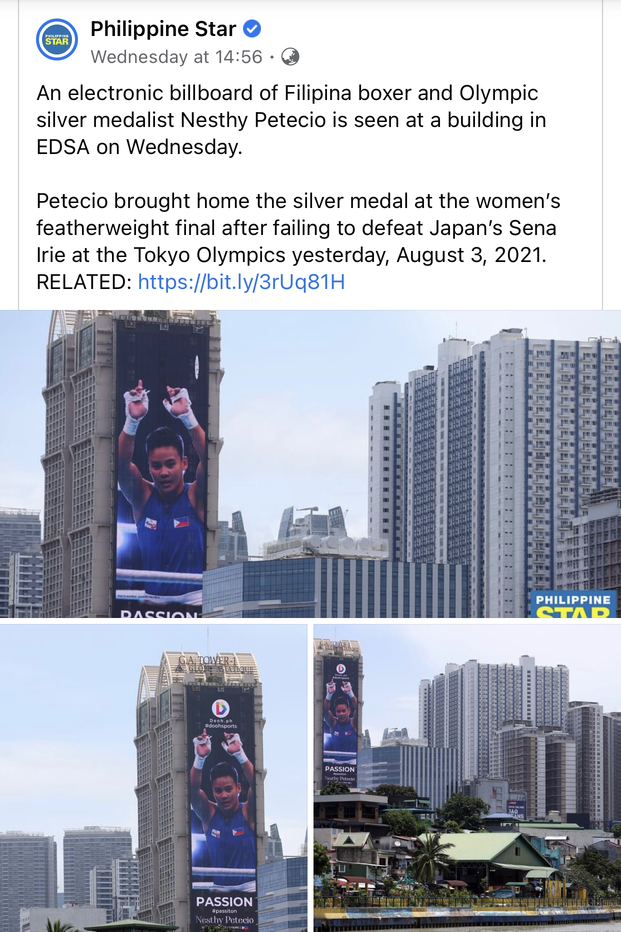 Take our Philippine Olympians as an example. 
It would be an understatement to say that the likes of Hidilyn Diaz and Nesthy Petecio brought unwavering joy and pride to the country. Brands, both big and small, rallied together in unison to congratulate the likes of these athletes who not only represented the Philippines, but brought home victories as well.
And this was evident on every main road across Metro Manila. Banners filled with congratulatory messages filled the streets. It was a great sight to see. Amidst all the chaos of the pandemic, the various wins gave the Filipinos something to celebrate. Finally, some good news. Some semblance of hope. It was news so groundbreaking and refreshing that it even took the attention away from the SONA.
And going hand in hand with outdoor media, best believe that the internet was flooding with congratulatory messages to the Olympians too. The growing noise online amidst all the lockdown announcements, rising cases, and the occasional memes can be deafening sometimes. It's definitely safe to say that this served as a breather for all.
Some brands recognized this opportunity and got creative by incorporating their own brand identity into these congratulatory Olympic posts. Others decided to keep it simple by posting an image of the Olympic medalists alongside a message.
The wins brought so much attention to the general public that literally made every brand wanted a piece of the pie; riding that wave made the brand inclined with the times, which is always a good impression to have on consumers.
So what does the Olympics have to do with this article?
The Olympics and the win of the Philippine athletes gained plenty exposure outdoors. It was already reaching many Filipinos on its own. But the growth and reach did not stop there as media outlets and even everyday people began posting images of these outdoor media ads online. This brought even more attention and strengthened the impact and message of the ads overall.
More into that below.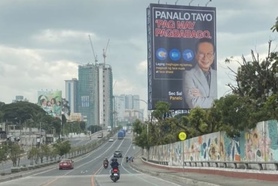 A Big Proclamation for An Even Bigger Industry
To say that outdoor media is unmatched is a confident and almost controversial statement. Understandable. But why does this advertising testament become so easy to proclaim?
It's simple  — the pandemic. Nowadays, the moment we step foot outdoors, our brains are wired into being extra alert and extra cautious of our surroundings. COVID-19 molded a subconscious and heightened awareness in us, therefore making us be more mindful so as to not catch the virus. And OOH simply benefits from the newfound alertness by just being there. Literally, wherever we go.
And that's how the OOH media impact is further strengthened. The qualities of out-of-home media make for an even bigger threat to our wallets.
"Budols" and all.
These outdoor media ad qualities include, but are not limited to specific location targeting, paired with contextual messaging that gives us a great sense of urgency.
There's a world of opportunities out there that make consumers curious, and along with that are endless creative ways for brands to get their message across to their audiences as well. Because of that, the presence of OOH has even more power now to pique our interests towards new ideas, products, and experiences.
One great example of outdoor media's impact would be the upcoming 2022 elections. As the season is fast approaching, it is only inevitable for the streets to be filled up with countless banners, posters, and yes, even billboards, of our favorite and not-so favorite political figures. It's obviously great publicity, which is why so many candidates opt to campaign this way.
Think about it. If your face is literally on every corner of every possible highway, side street or sidewalk, people are bound to remember your name and platform. In advertising, it's called brand recall. And practically all the candidates bank on this, pair it with a platform (in advertising terms, also known as their brand message) to sway the hearts and minds of both new and old customers (also known as us Filipinos).
It's a tried and tested formula — one that sometimes even proves to be more effective at swaying voters over the actual purpose or passions of the political figure.
But don't get this wrong. There are still plenty of figures out there whose purpose and passion are what make every OOH poster about them even more impactful.
No Signs of Stopping
Just like this pandemic, out-of-home media does not seem to be slowing down anytime soon. Combining all the learnings over the past 18 months, it is clear that the industry has not only adapted to the situation, but has used it to its advantage as well. To say that OOH media is unmatched is a bold statement, but one that has been proven time and time again to be accurate.
Similarly, brands can win at brand recall, awareness, or whatever objective they want to reach when outdoor media is publicized even more through online platforms. Taking advantage of the momentum and riding trends has the ability to boost a brand's relevance and timeliness as well.
By taking cues from the upcoming elections and the recent Tokyo Olympics, brands can learn to manipulate mediums such as OOH to maintain and retain their presence in consumers' minds by simply being present wherever these consumers may be.
Convinced? Make your brand a standout presence in the outdoor media landscape and contact Quick Brown Fox now.